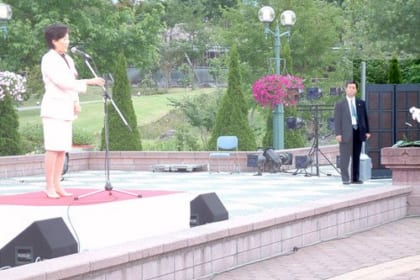 "The 12th Environment Congress for Asia and the Pacific" (eco-Asia 2004) was held in Yonago City, Tottori Japan in June, 2004. The event was sponsored by the Japanese Ministry of the Environment. The Minister of the Environment, Yuriko Koike, was the guest speaker. Government official from 20 countries also attended the event. Active debates were held covering various topics such as, "Cooperating with other countries in the area of environmental education". The Asia-Pacific Forum for Environment and Development (APFED) and the Asian Pacific Environmental Innovation Strategy (APEIS) groups were also well represented.
The keynote speaker for the opening ceremony of the 12th Environmental Congress for Asia and Pacific was the Japanese Minister of Environment Yuriko Koike. In her speech, she put emphasis on the 3R's (Reduce, Reuse and Recycle). The main emphasis was put on the long-term recycling of products throughout all of Asia in order to sustain, a cleaner Japan. In her speech, Minister Koike also talked about Japanese environmental technology. She introduced the FPS product during her speech by saying the following:
"The speakers set around the reception area this evening, are thin and light. These speakers also have the technology to control noise. Its recycling ratio is more than 90%, please pay attention to them."
The photograph shows the "Pipeline PL12" speakers with its subwoofer (tall silver speaker on the stand) and the Pro-type "Celestial voice CLV-6008" (32 brown speakers). This speaker are designed with the FPS2030 transducer.